+918037303336

Send Inquiry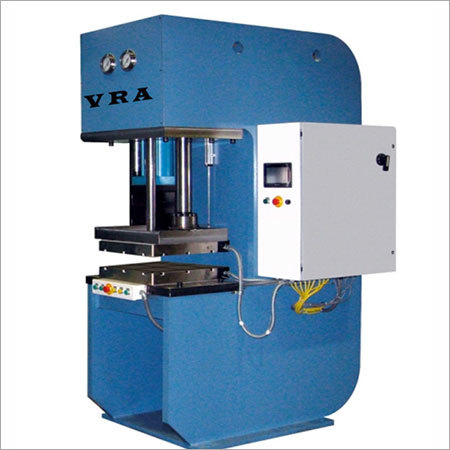 Product Description
Transfer Molding Press
Our Hydraulic Molding Press is designed to increase the production and is suitable for brake lining, rubber components like rubber mats, mica, rubber auto components, plywood pressing, wax filtration, rubber flaps, scooter mats, etc. with multi production. Its most special feature is the mechanical scissor arrangement which saves time of air breathing/multi degassing. Hydraulic Molding Presses are also equipped with advance technique of adjustable air breathing system. Our range of hydraulic molding press is available in two types:

Scissor Type Two Daylight Hydraulic Molding Press
Multi Daylight 2 Station Hydraulic Molding Press
We are one of the leading manufacturer of a wide range of transfer molding press and hydraulic transfer molding press. Transfer molding presses are specially designed for optimum production of simple and intricate transfer molding of Malemine, SMC, Bakelite, DMC with ejection facility and soft opening just after the churning period to avoid jerky movement which might damage the component being molded.
| | | | | | | | | | |
| --- | --- | --- | --- | --- | --- | --- | --- | --- | --- |
| MODEL NO. | CAP. TON | PLATEN SIZE (MM) | DAY LIGHT GAP (MM) | STROKE (MM) | BORE/ RAM DIA (MM) | TRANSFER CYL. CAP. (MM) | TRANSFER CYL.STROKE (MM) | PRESSURE KG/CM² | MOTOR H.P MAX. |
| V R A-100 | 100 | 400 X 400 | 400 | 250 | 250 | 40 | 150 | 210 | 5 |
| V R A-150 | 150 | 500 X 500 | 500 | 350 | 300 | 60 | 200 | 215 | 7.5 |
| V R A-200 | 200 | 600 X 600 | 500 | 350 | 350 | 80 | 200 | 210 | 10 |
| V R A-250 | 250 | 750 X 600 | 500 | 350 | 400 | 100 | 250 | 210 | 15 |
| V R A-300 | 300 | 800 X 600 | 600 | 400 | 430 | 120 | 250 | 210 | 15 |
| V R A-400 | 400 | 900 X 750 | 600 | 400 | 510 | 160 | 250 | 215 | 20 |
| V R A-500 | 500 | 1000 X 800 | 600 | 400 | 560 | 200 | 250 | 210 | 25 |
| V R A-600 | 600 | 1200 X 900 | 900 | 500 | 610 | 240 | 300 | 210 | 30 |
| V R A-800 | 800 | 1500X1000 | 1200 | 600 | 710 | 320 | 300 | 210 | 50 |
| V R A-1000 | 1000 | 1800X1000 | 1500 | 800 | 810 | 400 | 400 | 210 | 75 |
Other Products in 'Rubber Molding Press' category